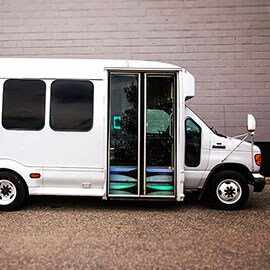 Party Bus
Take your friends or family out for a good time. Take one luxury bus and travel together instead of taking multiple cars and not spending as much time together.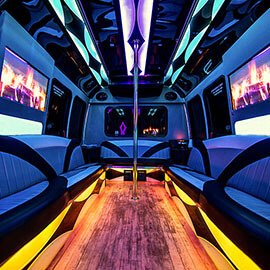 Limo Bus
Perfect for a night out on the town. You won't have to worry about having a designated driver or getting a smelly taxi. You can celebrate all night long while on the road.
Leather Seats
Color Changing Lights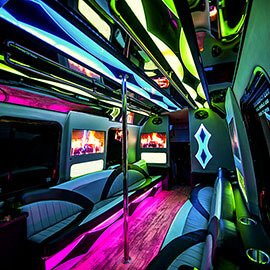 Luxury Bus
Great for wedding parties. Take your wedding party to the ceremony and reception all together. Drive around town while stopping at varies locations to take photos.
Fantastic Sound System
CD's & Aux Cord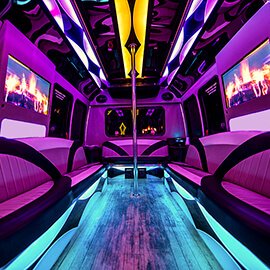 Party Bus
Just because it's a "party" bus doesn't mean you can't use it for something more serious. Have a limo bus to take your co-workers to a corporate meeting.
Built-in Bars & Coolers
Dance Pole
Welcome to
Party Bus Fort Myers
We'd like to thank you for considering us for your transportation needs! If you are in the market for a luxury bus or limousine that is a cut far above the rest, there really is no better option than to get in touch with Party Bus Fort Myers! Our selection of limos and limo buses will undoubtedly astound you; and on more than one occasion, our customers have been amazed at the relative affordability we can pass on to you. These two great facets of our business is only made all the better by our world class customer service as well as our uncommonly professional crew of chauffeurs. When all this is added together, we can insure that your experience with us will be problem free, memorable, and quite possibly the most fun you could imagine in a "set of wheels"!
Fort Myers Party Buses: Group transportation services for your special occasion!
Limo Fort Myers, for all the time we've been in business, has been providing the highest level of transportation service that can be found. For your convenience, we hold the phone lines open every hour of every single day of the year. We also keep watch over our email box when the phones are not ringing. We do this to make sure that you are taken care of during each and every stage of the rental process with us. We are always happy to answer questions, and we are always glad to be able allay your concerns, whenever they might arise. Party Bus Fort Myers prides itself on incredible customer care... So, we are always doing our best to fully serve your needs. If you want to learn more about our limousines, visit our limo service page!
Find ultimate party machines here! Limo rentals & party bus rentals at affordable prices!
We're honored to have you here visiting our website. It is your first step into the world of great transportation options we provide. While you're here, feel free to peruse our pages and gain some knowledge on our pricing policies, take a look at our superb variety of vehicles and the amenities they provide, get ideas on what type of events are perfectly accommodated by a luxury vehicle, or see which areas we are likely able to provide service to. If you don't happen to get the info you need here, check out our contact page to find out how to get in touch! We're always just a phone call or an email away, and it's that easy to speak with one of our representatives to find out what it will cost for your particular event, or ways in which you can save extra money during your outings with us. We're always doing everything in our power to pass on as much savings as possible to our customers, and working hard to fit our services into your budget instead of the other way around.
Quality limousine service & party bus service.
The best in Southwest Florida for transporting large groups!
Allow yourself to experience, perhaps for the first time, how amazing it feels to have a professional chauffeur at the wheel all night. You'll know that you're safe and sound, all the while living it up with all the perks of a beautiful Fort Myers limousine or party bus at your fingertips. Drinking alcohol on board is completely legal with us, so you can stock our built-in bar with whatever it is that you like to imbibe. We provide ice and cups, so you don't have to worry about that! You can listen to all your favorite tunes and enjoy the crystal clear picture on our HDTVs. The lighting is gorgeous in all of our vehicles and they are all so spacious and comfortable. Conversation is so cozy in our buses, unlike in a cramped car. And since all your friends are traveling in one vehicle, there's no reason to send endless texts trying to meet up in one place. No one gets lost, no one gets too drunk to drive, and no one is late. It's perfection from the party planner's perspective, and if that's you, you can see why these things are all perks! We service beyond Ft Myers as well.
Get treated like a rock star for your next special event!
We are a party bus company providing Fort Myers Florida with world class party bus rentals.
From the very first moment you contact us, it will be quite evident to you that our commitment to world-class customer service is our highest priority. We are devoted and enthusiastic with every step along the road to your satisfaction. Regardless of the event you have planned, we have the utmost confidence in our ability to handle it with class and efficiency! Let us put our years of experience and knowledge to work for you, and transportation will be the last concern on your mind! Give us a call or send us an email today.
- Are you planning a group trip soon? Rent the most comfortable charter bus from us! -
We serve any type of event that you could dream of out here in the Fort Myers area! There's a lot to do here, and so much culture. The Sidney & Berne Davis Art Center, Space 39 Art Bar, JetBlue Park, and Hammond Stadium are just a few of the notable locations you can find across the city. Whether you're celebrating a milestone birthday, planning truly exquisite wedding, throwing a wild bachelor or bachelorette party, or renting a bus for your teens to use during their proms and homecoming celebrations, you should know that we are the number one luxury transportation in this area for all of those and then some! Take a look at some of our most popular events below!